Description
VEVOR 2L 3L Knob Ultrasonic Cleaner with Heater Mini Portable Washing Machine Ultrasound Small Dishwasher Jewelry Glasses Parts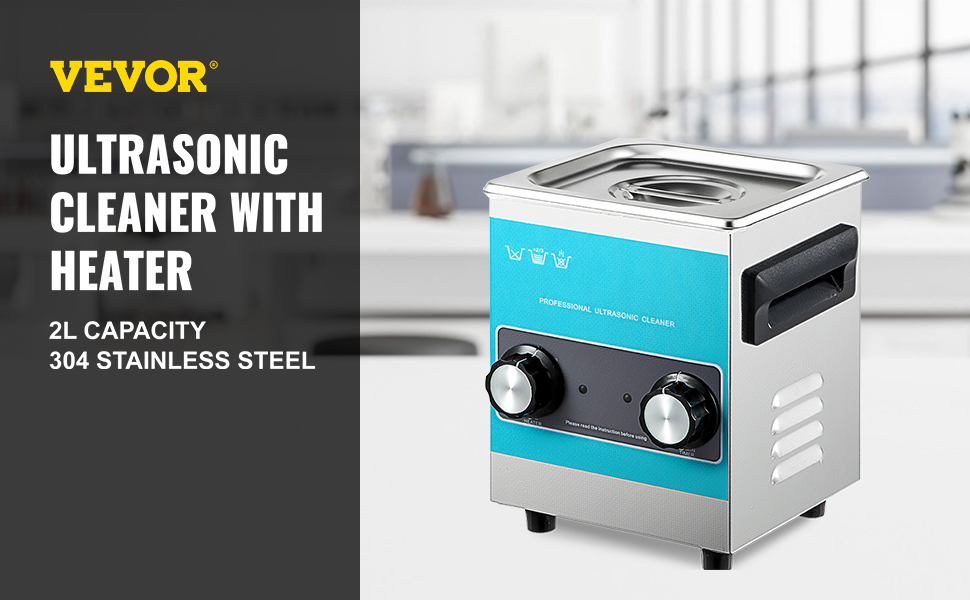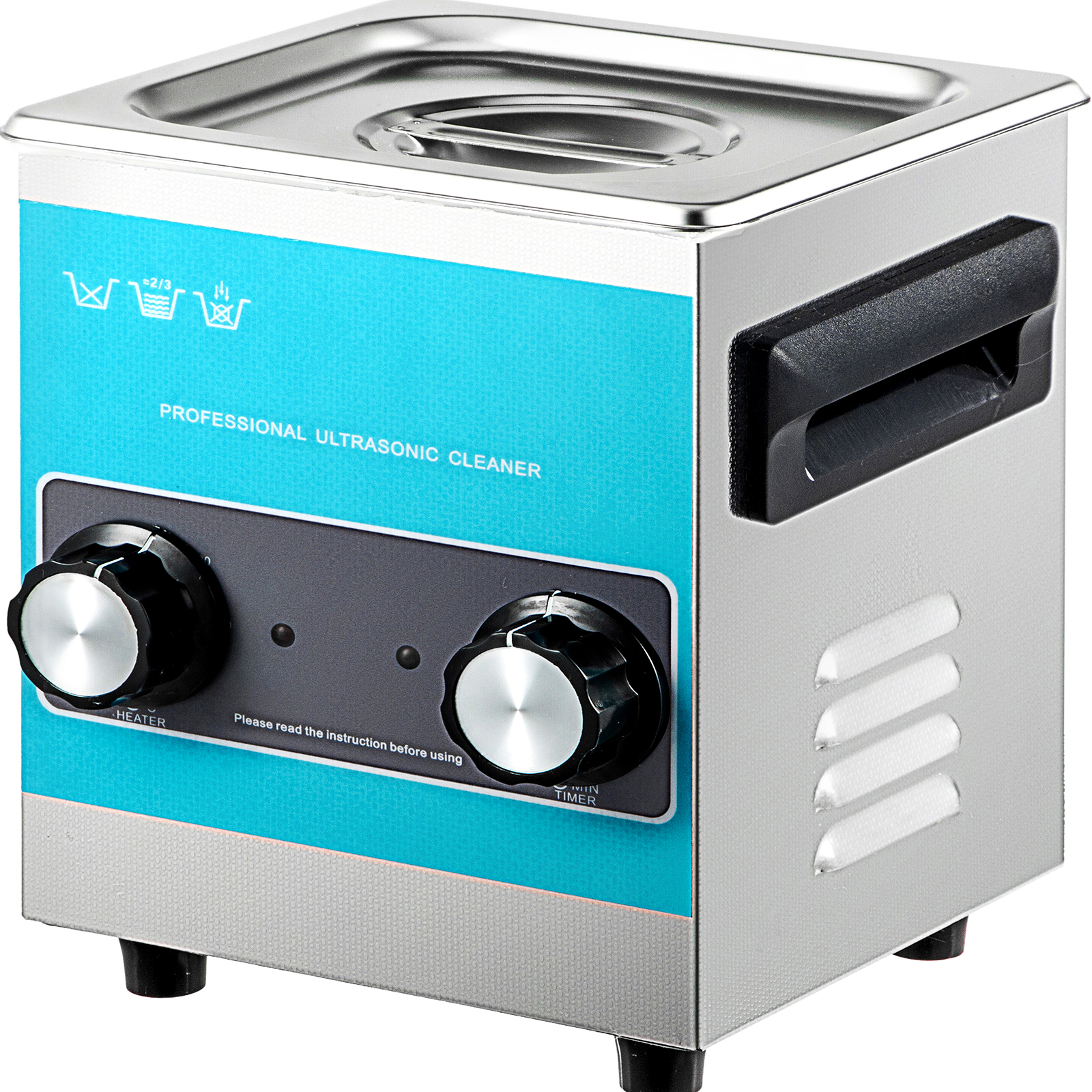 2L Ultrasonic Cleaning Machine
This Ultrasonic Cleaner is a high-efficiency ultrasonic cleaner used for daily or professional cleaning works. It will emit 40KHZ ultrasonic waves to deeply wash dirt on your valuable's surface, crevice and shelter. With heating & timing functions, your items can be cleaned thoroughly in minutes. No scratching created, great for commercial or home.
304 Stainless Steel
2L Tank Capacity
Easy to Use
User-friendly Designs
Tough Equipment & Tools, Pay Less
VEVOR is a leading brand that specializes in equipment and tools. Along with thousands of motivated employees, VEVOR is dedicated to providing our customers with tough equipment & tools at incredibly low prices. Today, VEVOR's products are sold in more than 200 countries and regions with 10 million plus members worldwide.
Why Choose VEVOR?
Premium Tough Quality
Incredibly Low Prices
Fast & Secure Delivery
30-Day Free Returns
24/7 Attentive Service
Reminder:Since the heating plate is at the bottom, there is a certain difference between the temperature displayed on the panel and the water surface temperature, but it does not affect the use of the product.
Key Features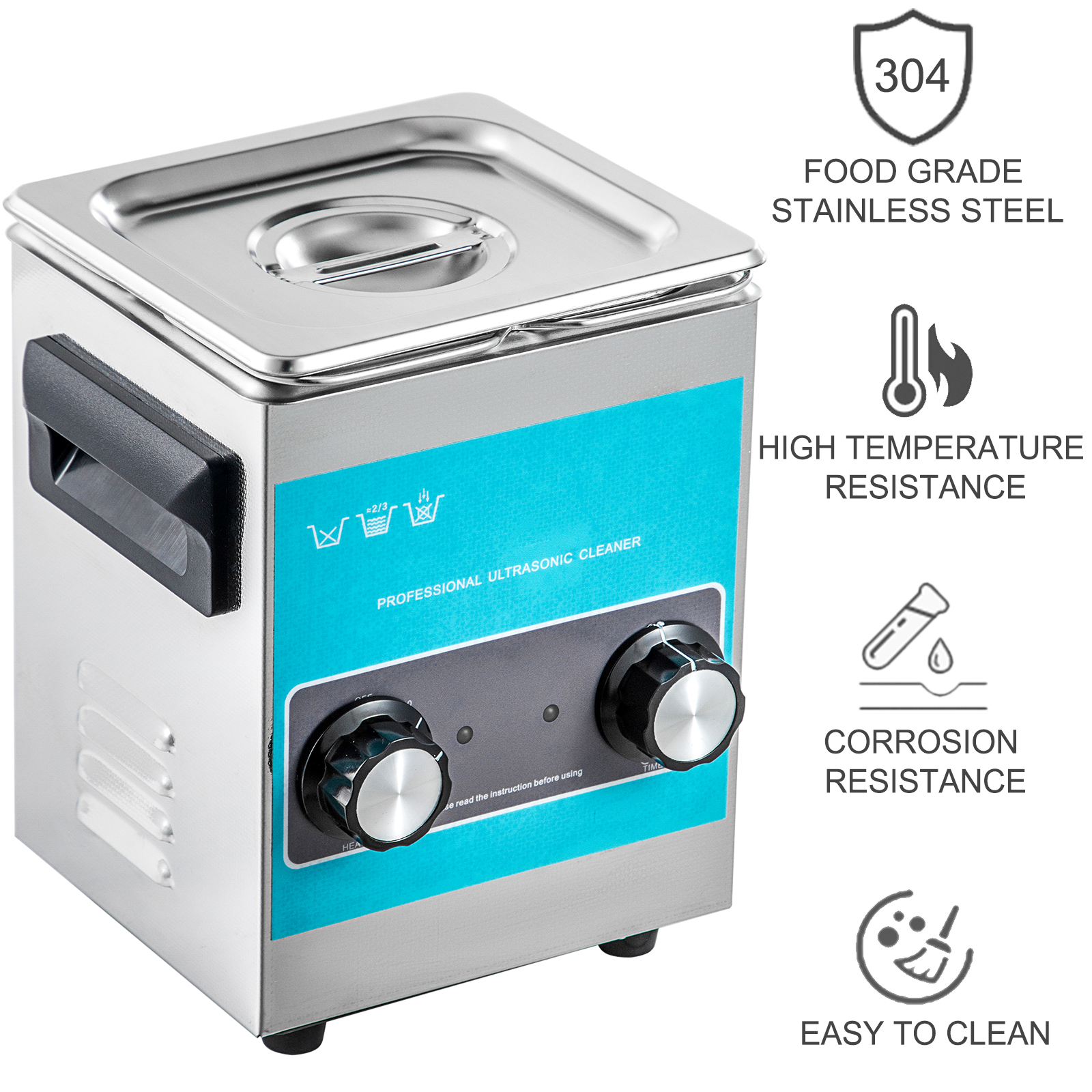 Premium Stainless Steel
304 stainless steel tank, better to resist rust and corrosion, ensuring no water leakage. It is durable to last for years.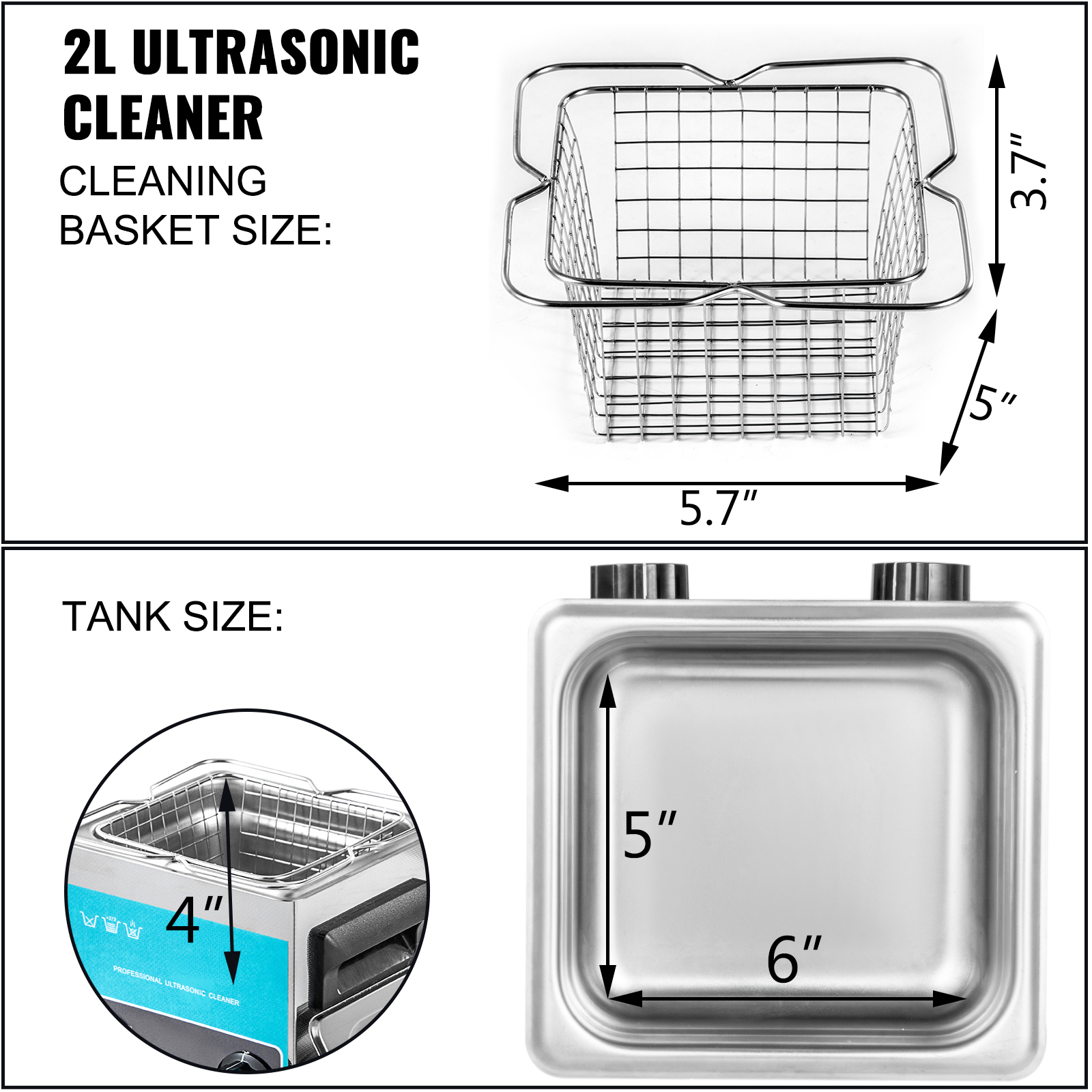 2L Tank Capacity
Tank Capacity: 2L. Kindly provide a large basket and a small ball-shaped jewelry cleaning basket for you to handle different items.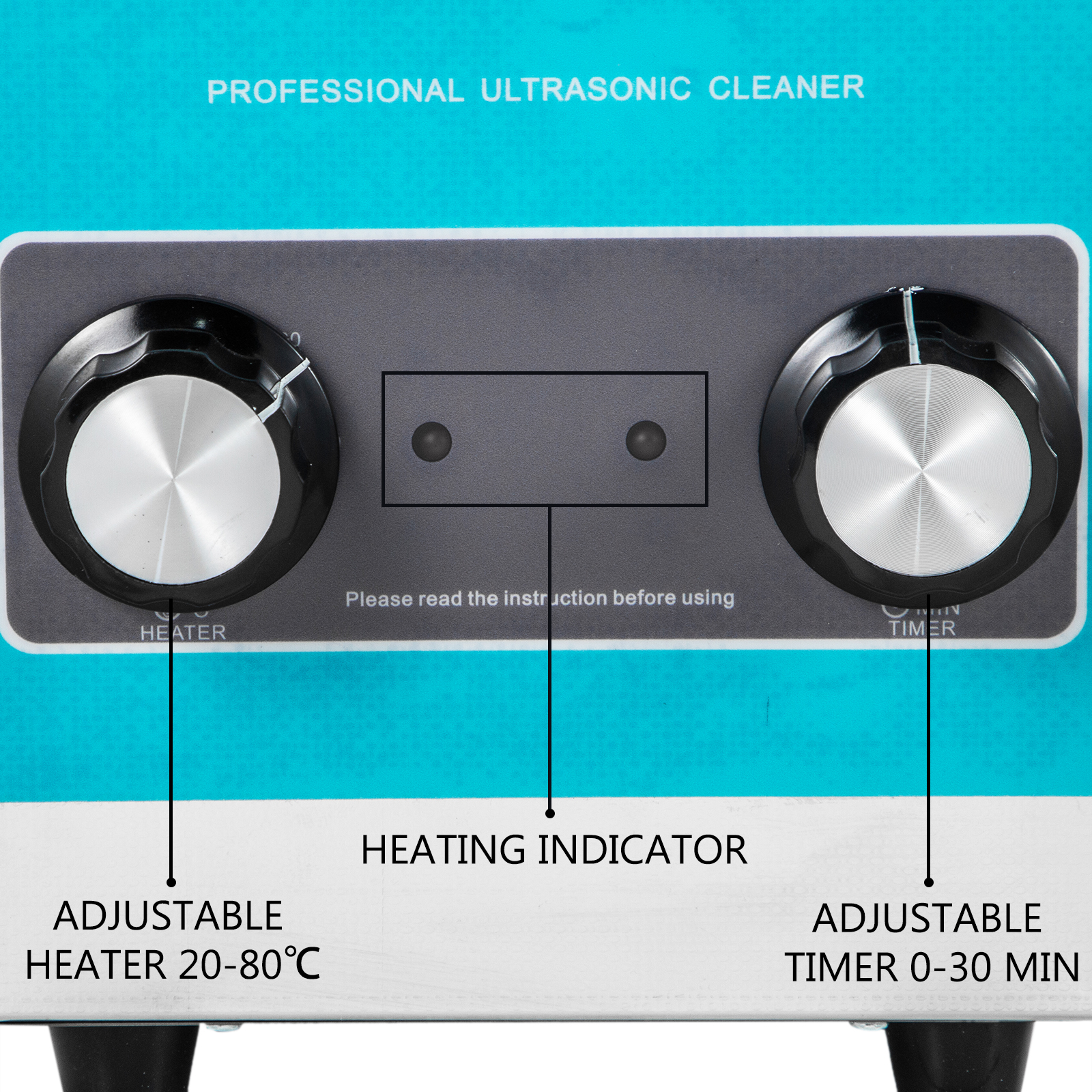 Mechanical Knob Control
Actual cleaning work time(0-30 min adjustable); Also, it can heat the liquid between 20-80℃ with two mechanical knobs to adjust functions.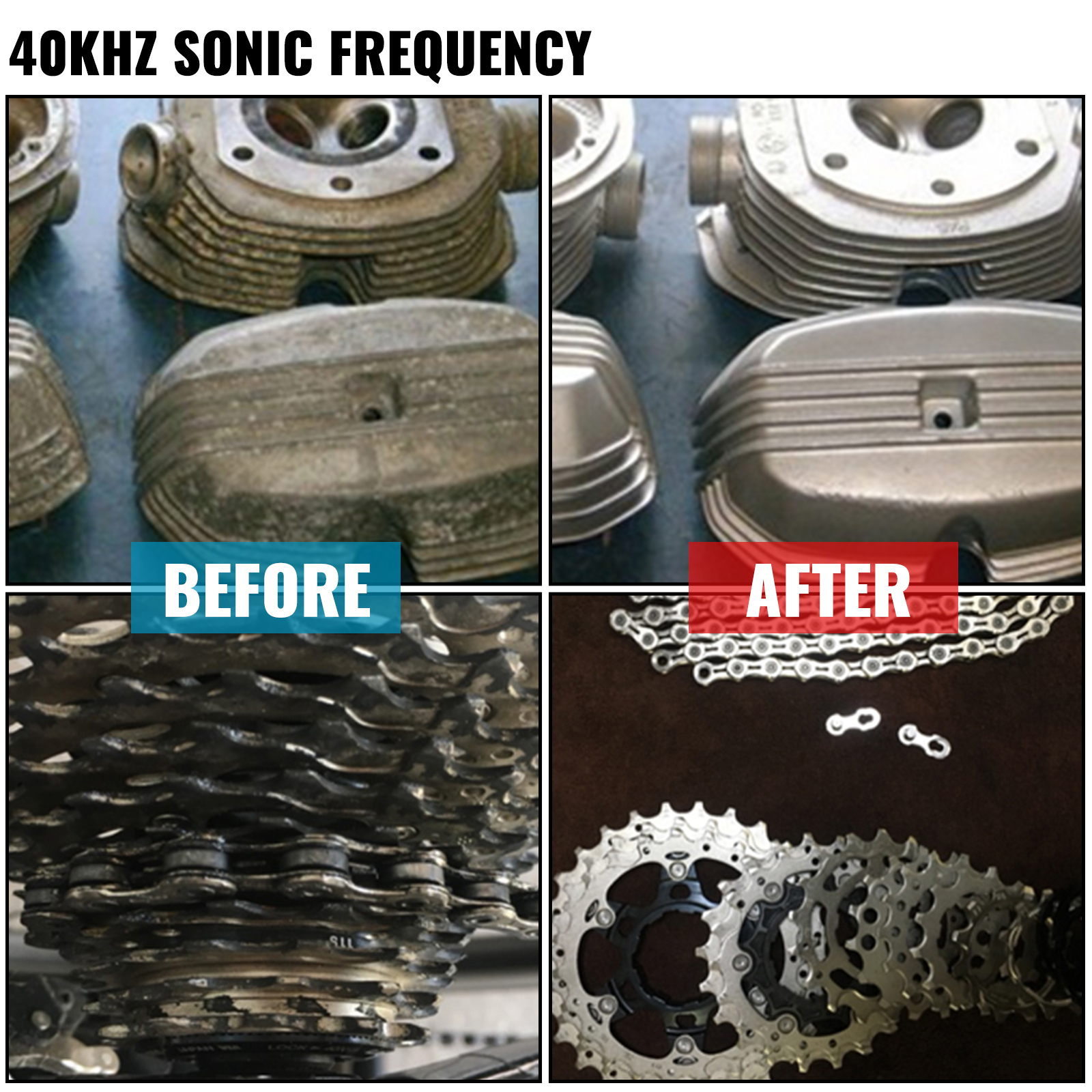 40KHz Sonic Frequency
Our cleaning machine with 40Khz frequency creates more cavitation quantity. Do well in cleaning kinds of stuff with complex shapes, holes, long-time stains.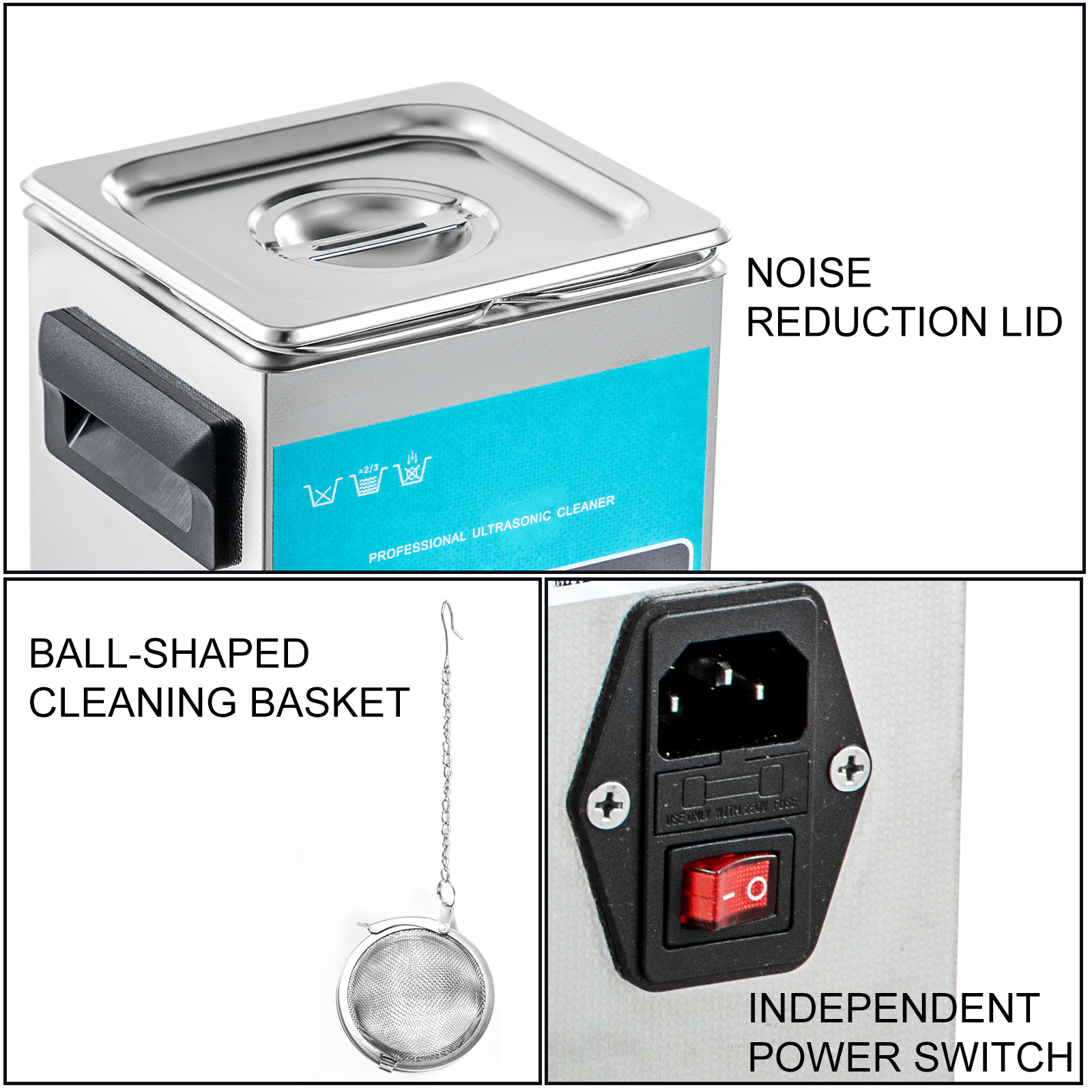 Well-designed Details
A stainless steel lid, a small ball-shaped jewelry cleaning basket, and a power switch are included for your convenience.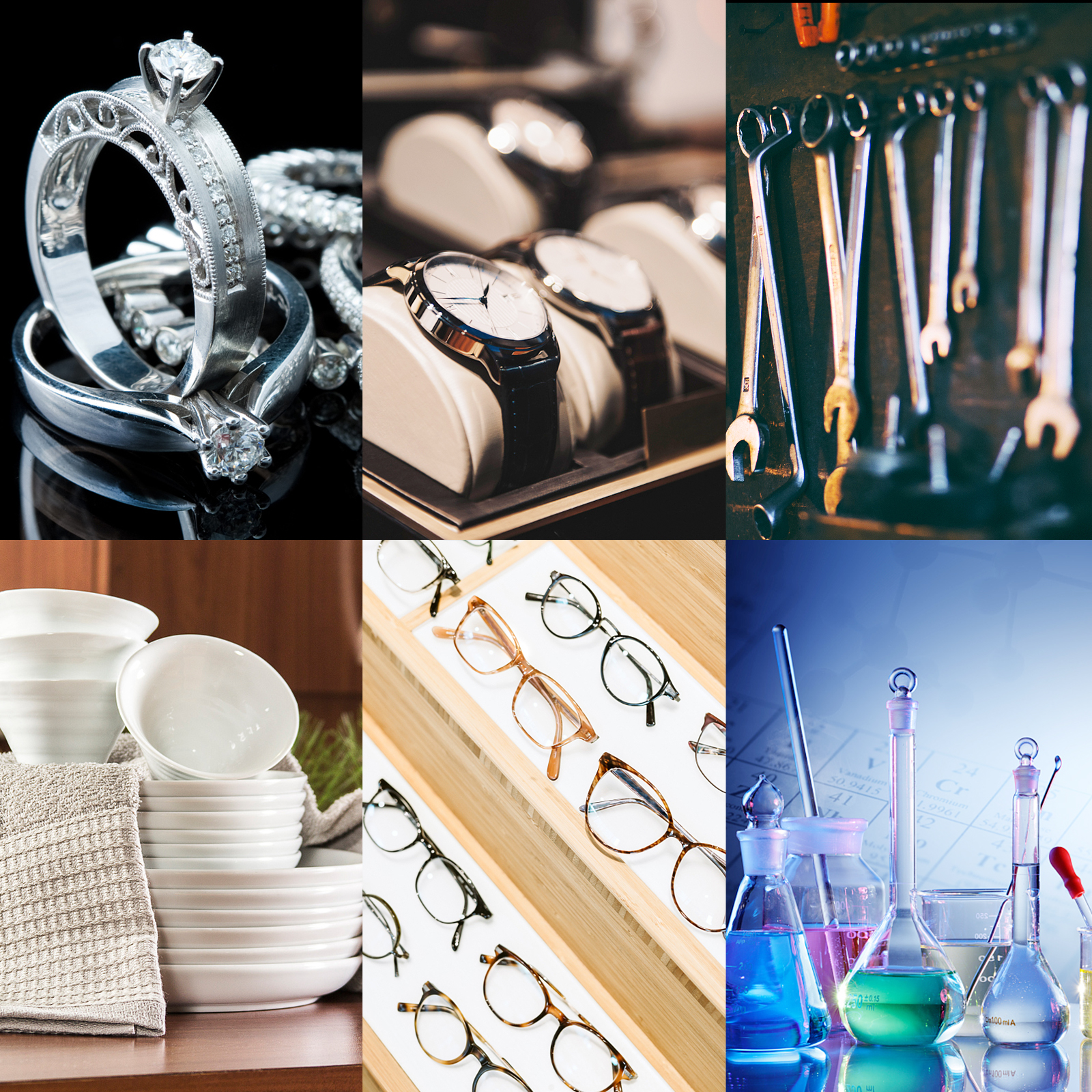 Widely Used
Suitable for many fields to use–jewelry: earrings, necklace, diamond; Glasses: sunglasses, optical lenses, contact lenses; Dental: razor blades, dentures; Dishware: forks, knives, spoons, etc.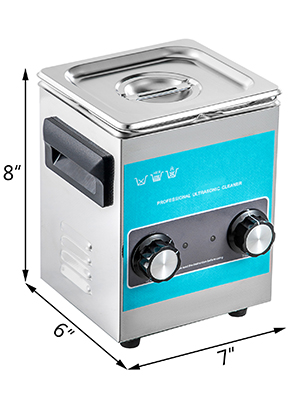 Specifications
Voltage: 220V/40Khz
Material: 304 Stainless Steel
Capacity: 2/5 Gallon/2L
Heating Power: 100W
Ultrasonic Power: 60W
Adjustable Timing: 0-30 min
Adjustable Heating: 68-176℉/20-80℃
Item Size: 7"x6"x8"/175x160x210 mm
Inner Size: 6"x5"x4"/150x135x100 mm
Basket Size: 5.7"x5"x3.7"/145x125x95 mm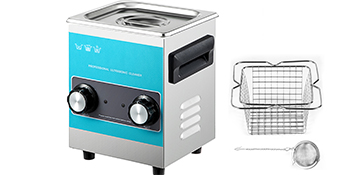 Package Content
1 x Ultrasonic Cleaner
1 x Cleaning Basket
1 x Ball-shaped Cleaning Basket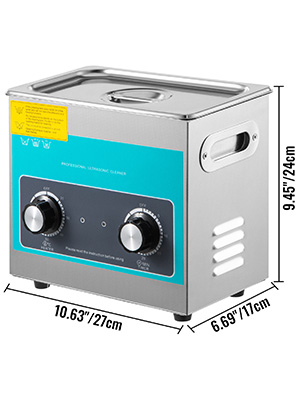 Specifications
Material: 304 Stainless Steel
Capacity: 3L/0.79 Gal
Ultrasonic Frequency: 40kHz
Ultrasonic Power: 120W
Heating Power: 100W
Voltage: 110V/60HZ
Time Range: 0-30 min
Temp Range: 68-176℉/20-80℃
Tank Size (L*W*H): 9.45″x5.51″x3.94″/24x14x10 cm
Item Size (L*W*H): 10.63″x6.69″x9.45″/27x17x24 cm
Product Weight: 8.16 lbs/3.7 kg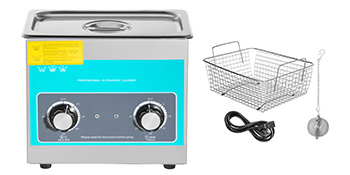 Package Content
1 x Ultrasonic Cleaner
1 x Stainless Steel Cover
1 x Cleaning Basket
1 x Ball-Shaped Cleaning Basket
1 x Power Supply
1 x User Manual
Features & Details
【304 STAINLESS STEEL】- Heating Power: 200W. Ultrasonic Power: 60W. Frequency: 40KHz. This ultrasonic cleaner machine is made of 304 stainless steel, ensuring no water leakage, has better resistance to corrosion, rust, and heat.
【2L TANK CAPACITY】- Inner size: 6"x5"x4", provides 2 L tank to hold more items, and an extra basket we provide is for your convenience. Basket Size: 5.7"x5"x3.7". 40Khz ultrasonic frequency works great to remove oil, wax, stain in holes, surface, aperture, etc.
【EASY TO USE】- With two mechanical knobs to adjust functions, you can adjust the timer between 0 ~ 30 min and the heater between 20 ~ 80 ℃. Heating can decrease the adhesive strength of oil and wax to be cleaned.
【USER-FRIENDLY DESIGNS】- This 2l ultrasonic cleaner is designed for better customer use: small ball-shaped cleaning basket, heat dissipation, anti-slide rubber feet, independent power switch, a stainless steel lid for noise reduction.
【MULTIPURPOSE CLEANER】- Pass the tests of CE. Our cleaner is perfect for commercial, industrial, and residential use, suitable for cleaning jewelry, glasses, lab equipment, watches, precision instrument, dental equipment, hardware parts, etc.