Description
VEVOR Multi-function Hand-push Seeder W/ 6 Seed Plates Precision Lawn Spreader Cotton Vegetable Wheat Corn Peanut Seeder Planter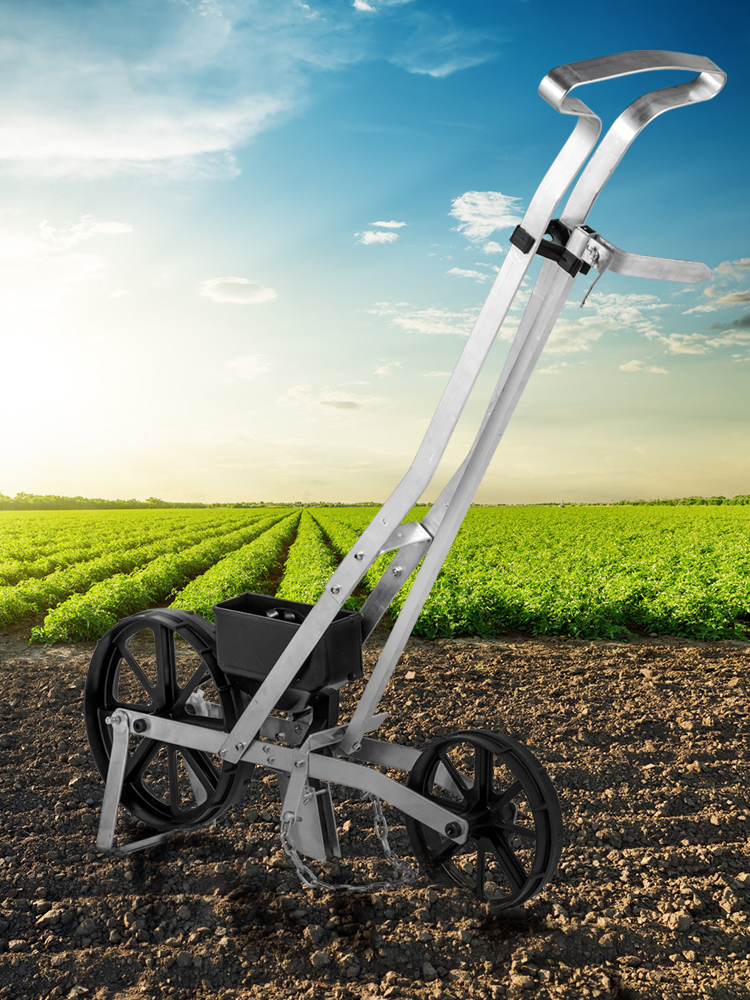 Aluminum Garden Seeder
Our garden seeder is a great helper for your effortless planting. Six interchangeable seed plates can place the seeds at the appropriate intervals without jamming, and the adjustable row marker allows the accurate spacing between seeds planted. It is suitable for seeding various crops and vegetables, saving your time and energy.
High Planting Efficiency
Precision Seeder Tool
Durable Aluminum & ABS
User-friendly Design
Tough Equipment & Tools, Pay Less
VEVOR is a leading brand that specializes in equipment and tools. Along with thousands of motivated employees, VEVOR is dedicated to providing our customers with tough equipment & tools at incredibly low prices. Today, VEVOR's products are sold in more than 200 countries and regions with 10 million plus members worldwide.
Why Choose VEVOR?
Premium Tough Quality
Incredibly Low Prices
Fast & Secure Delivery
30-Day Free Returns
24/7 Attentive Service
Key Features
High-efficient Garden Seeder

With the ditch plow, seed plate, pulley system, metal chain, and wide back wheel, our garden seeder can help you finish the planting efficiently.

Precision Row Planter

The sturdy furrow plow ensures a precise seed depth. Besides, the seed plate and row marker help control the seed spacing for straight rows and consistent planting space.

Adjustable Height

The height of our seed planter is adjustable to fit the different users. So you can adjust it to your size, and there is no need to bend, saving your energy.
Premium Aluminum & ABS

Our row planter is constructed with premium aluminum and ABS. These durable materials are rust-proof and durable enough for long-term outdoor use.

Easy to Store

The support frame will provide a steady stop for the planter, and the row marker is collapsible to avoid taking up much spacing for storage.

Wide Applications

The six seed plates are suitable for carious seeds like sweet corn, leek, radish, asparagus, spinach, carrot, peas, okra, Swiss chard, etc.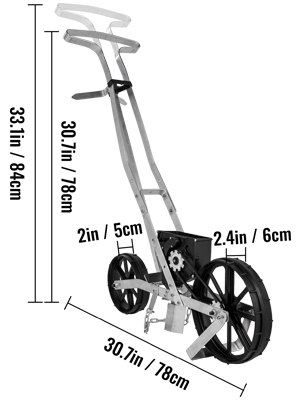 Specifications
Model: SS-KS-0001
Material: Aluminum, ABS
Adjustable Height: 30.7″-33.1″/78-84 cm
Seed Plate Quantity: 6
Product Length: 30.7″/78 cm
Front Wheel Width: 2.4″/6 cm
Back Wheel Width: 2″/5 cm
Product Weight: 14.6 lbs/6.6 kg
Package Content
1 x Garden Seeder
6 x Seed Planter