Description
VEVOR Restaurant Pager Calling Paging System 16 Coaster Receiver Restaurants Church Nurse Clinic Queue System Wireless Pagers
Product Description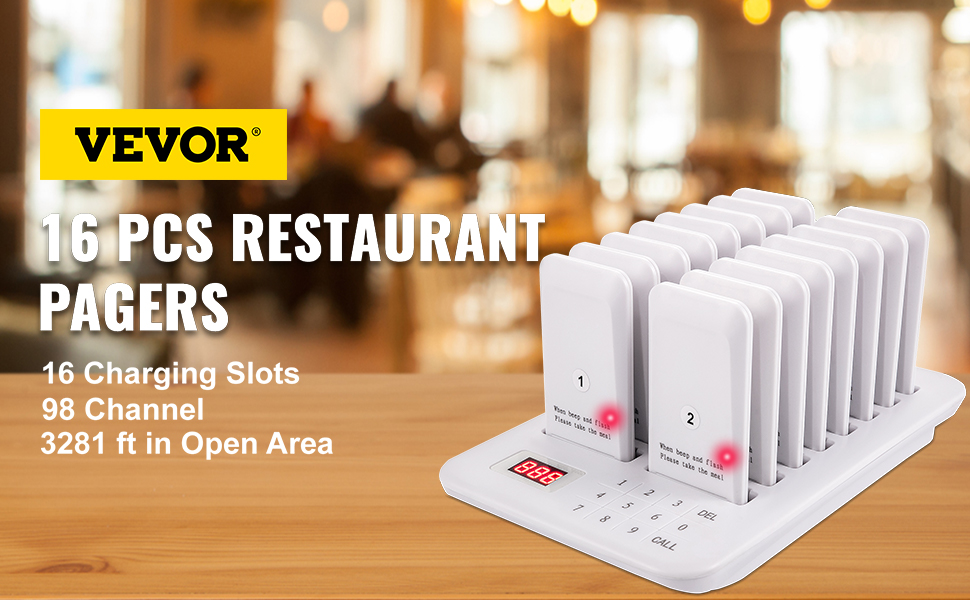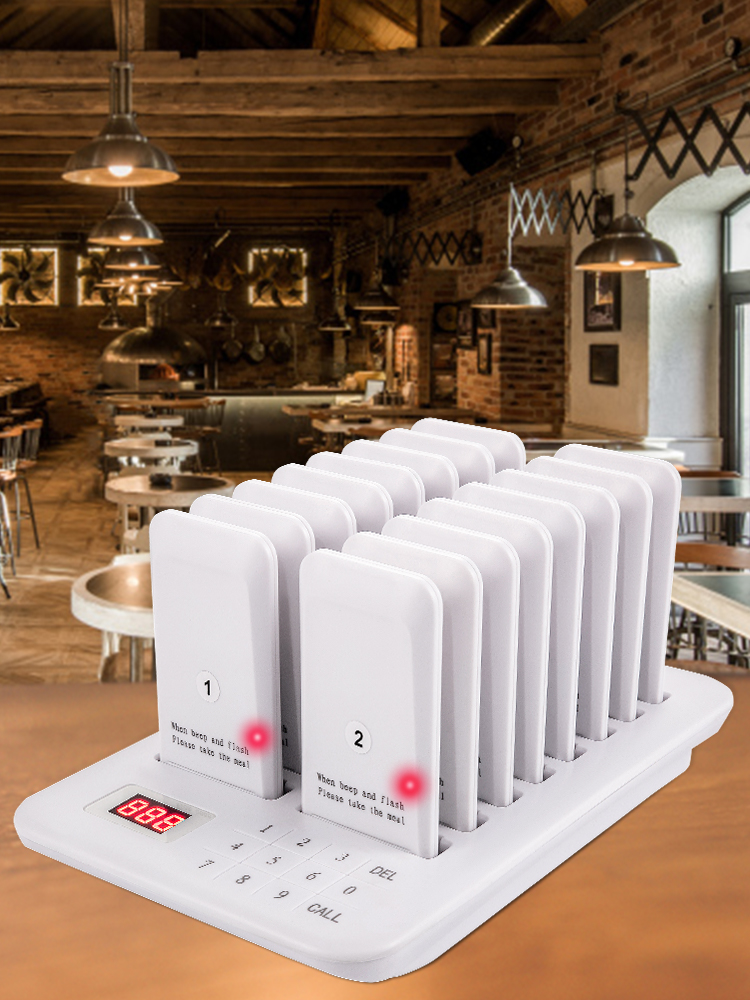 F101 Wireless 16 restaurant pagers
The wireless calling system set consists of one 98-channel wireless calling button base and 16pcs wireless pagers. It adopts RF wireless & learning code technology and can easily pair up to 98 channels of pagers. When the customer places an order, he(she) will be dispatched to one receiver with a number. Press the keypad to call the number; the customer will get it through the buzzer/vibration/LED indications. It's an ideal choice for fast food restaurants, food courts, clinics, churches, auto shops, and other queue occasions.
16 Channels
2 Indication Modes
High Sensitivity
Long Standby
Tough Equipment & Tools, Pay Less
VEVOR is a leading brand that specializes in equipment and tools. Along with thousands of motivated employees, VEVOR is dedicated to providing our customers with tough equipment & tools at incredibly low prices. Today, VEVOR's products are sold in more than 200 countries and regions with 10 million plus members worldwide.
Why Choose VEVOR?
Premium Tough Quality
Incredibly Low Prices
Fast & Secure Delivery
30-Day Free Returns
24/7 Attentive Service
Key Features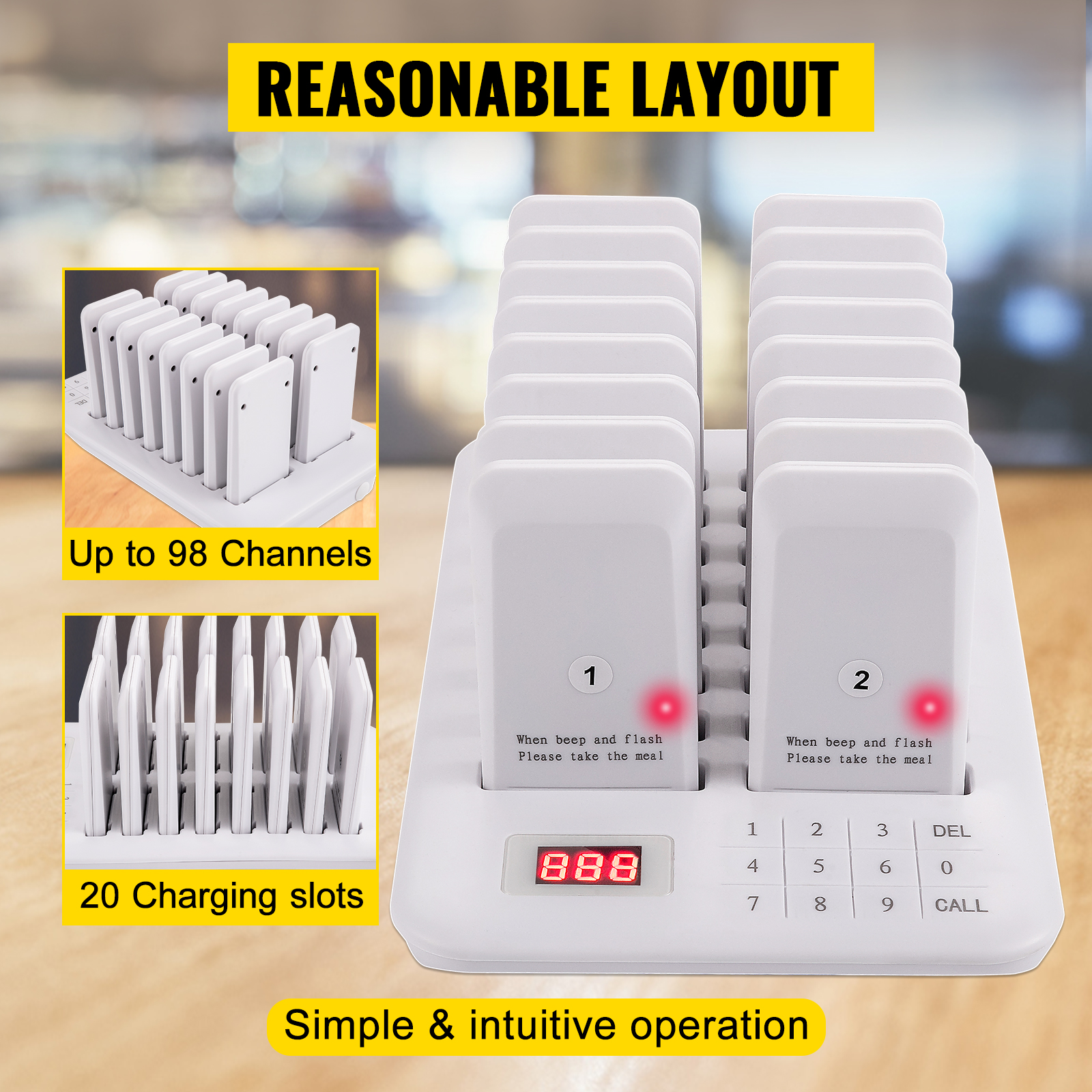 Simple & Intuitive Operation
16pcs pagers and a highly-sensitive touch keyboard with a reasonable layout bring simple & intuitive operation. Based on the RF wireless and learning code technology, the restaurant pager system can pair with 98 restaurant coaster pagers.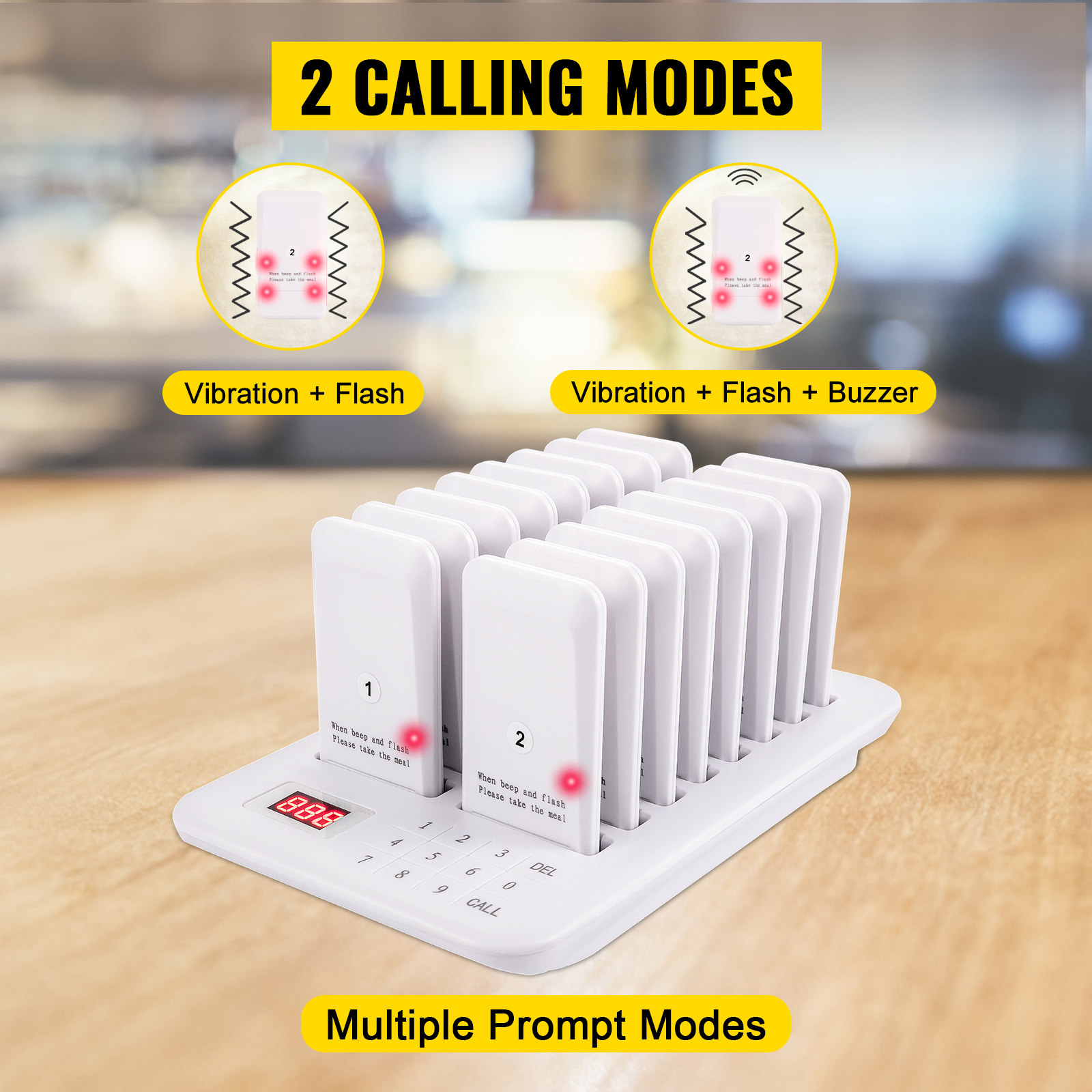 2 Calling Modes
Vibration, flash, and buzzer multiple different prompt modes are used in dealing with various situations. The restaurant beeper system greatly improves work efficiency and gets rid of waiting in a long queue.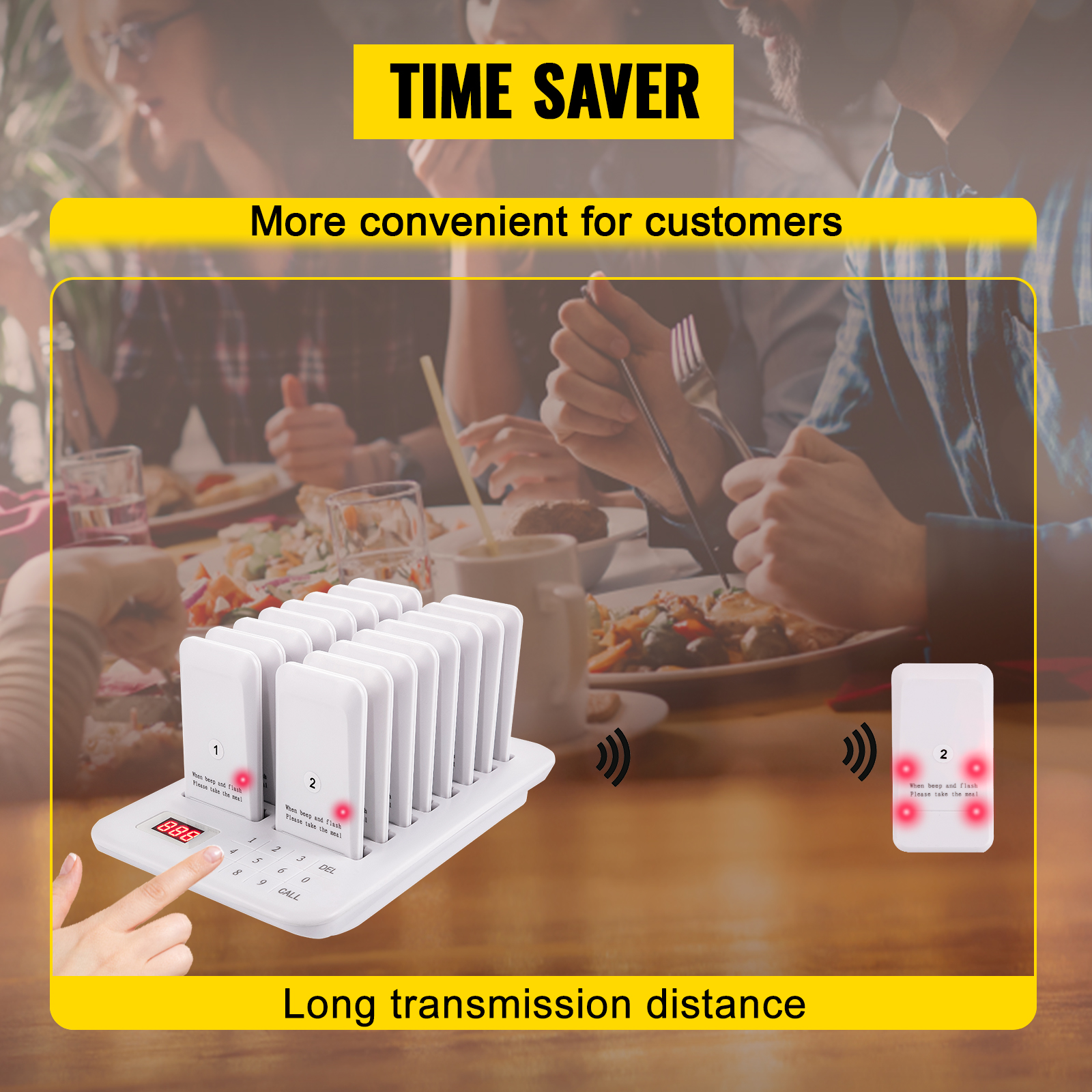 Time Saver
Take advantage of professional chips to maintain long-distance work, 3281 ft in open areas, 984-1640 ft indoor. People could wait outside to make sure social distance with each other. So it is definitely a time saver for you and your customers.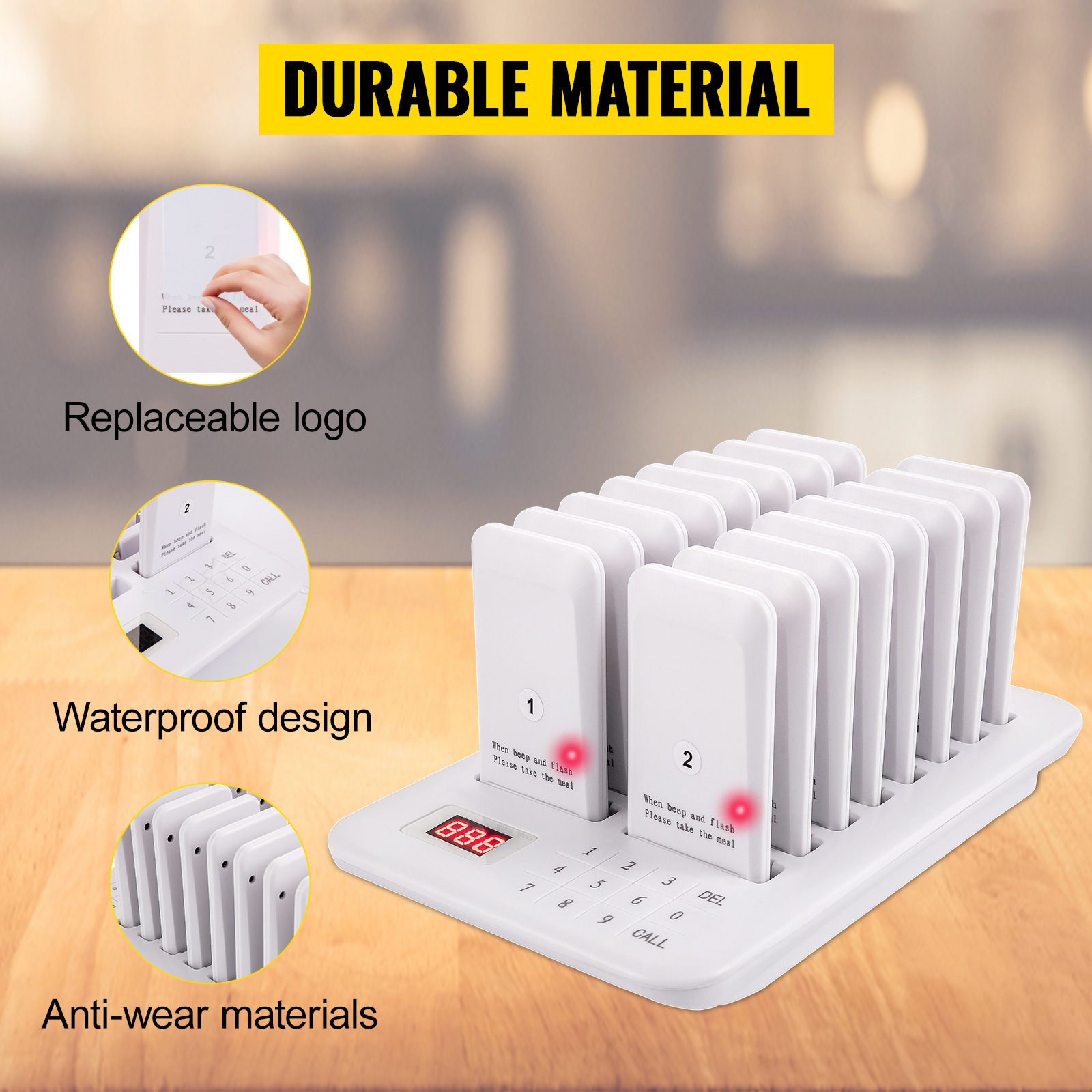 Waterproof Material
With IP55 waterproof technology, the pagers and touch keyboards are not afraid of wet environments. So even if the customer accidentally spilled water on the pager, the pager won't break. What's more, you can DIY the paper image to replace the number display area.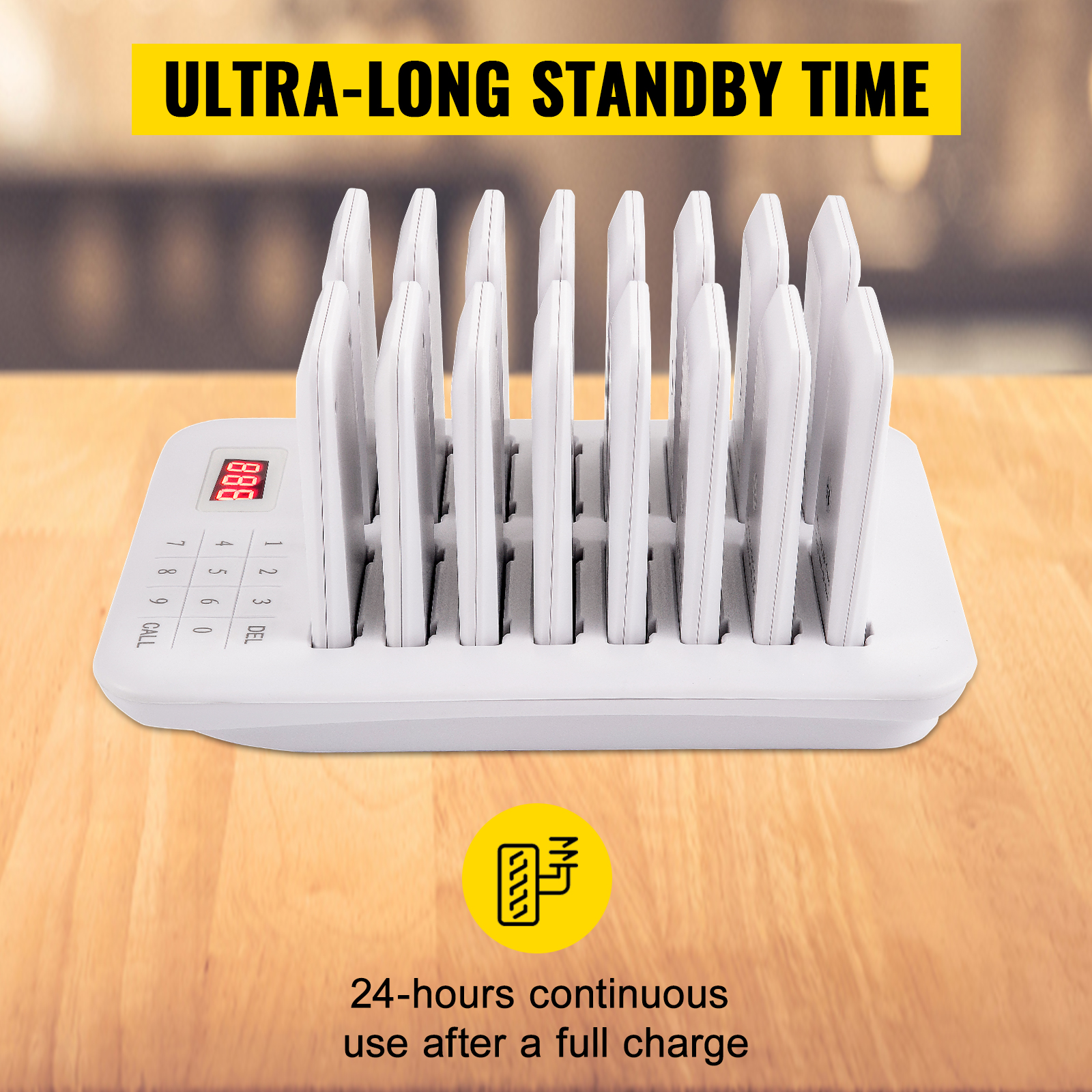 Ultra-Long Standby Time
The built-in 3.7V rechargeable battery makes the pager have 24-hours continuous use after a full charge. Also, 16 charging slots provide power whenever you put the pager on the base, so you don't have to worry about running out of power.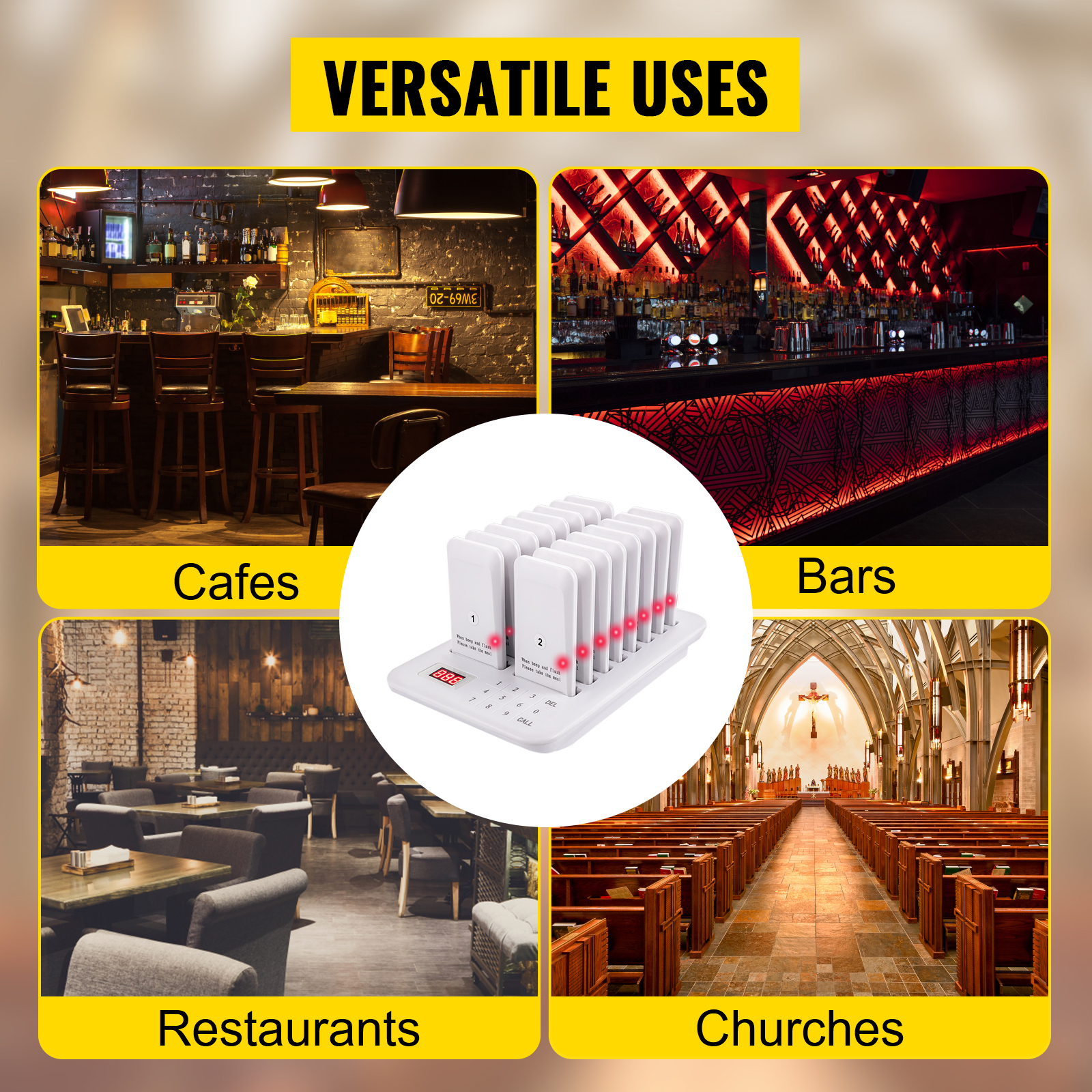 Versatile Uses
The wireless paging system is a good helper in many different places. Whether quiet places such as churches, clinics, libraries, or noisy places such as restaurants, food trucks, test centers, or other queue occasions, the paging system will remind customers and make serving customers a lot easier.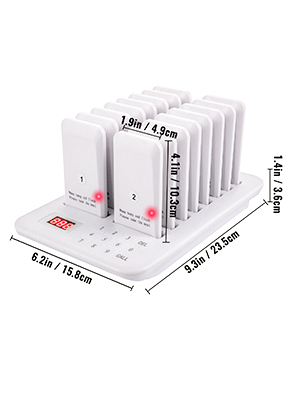 Specifications
Host Machine
Model: F101
Material: ABS plastic
Host Power: 100 mW, 315 MHz
Host Launch Distance: 984-1640 ft/300-500 m
Host Power Supply: DC/9V1A
The Maximum Number of Channels: 98
Receiver
Standby State: 10 mA
Working (Vibration) State: 75 mA
Battery: 3.7V/200 mha
Standby Time: ≥20 hours
Standby Power Consumption: 25 mW
Reminder Method: Vibration, Flash, Buzzer
Host Size: 9.25 x 6.22 x 1.42 inch/23.5 x 15.8 x 3.6 cm
Sub-machine Size: 4.06 x 1.92 x 0.39 inch/10.3 x 4.9 x 1 cm
Package Content
16 x Pagers
1 x Antenna
1 x Adaptor
1 x Keypad
1 x Manual
Features & Details
16 Channels: The F103 restaurant pagers system consists of one 98-channel wireless keypad calling base, and 16pcs pagers help avoid the client's waiting in the long queue to a great extent. As a result, it can prevent staff chaos, keep social distance, and improve work efficiency.
2 Indication Modes: Short press the setting bottom. The pager is set to vibration + flash mode when the LED lights are off. It is set to vibration + flash + buzzer mode when the LED Lights are on. Also, the prompt time for the pager system is adjustable from 1-99s. It's long enough for customers to be paged.
High Sensitivity: Equipped with a large touch screen display for easy operation and precise control. High sensitivity enables the base to call pagers clearly and correctly. A built-in antenna allows the pager to work generally within 3281ft from the base in the open air.
Long Standby: Each wireless paging system has a built-in 3.7V 200mha rechargeable battery. It has about 24 hours long working time after a full charge. In addition, the transmitting host can charge 16 pagers simultaneously, so you don't have to worry about running out of power.
Wide Compatibility: The restaurant pager system is widely used in restaurants, food trucks, churches, and other places where many guests wait for service. It can help people get rid of the trouble of queuing during the outbreak and enjoy the best pleasure of life.